Fattened goose liver - quintessential French cuisine
Từ

08/06/2016
France is also known by the whole world of culinary originality. Fattened goose liver is one of the culinary elite incomparable French.


[IMG] http://media2.ola88.com/images/122015 /55/12015121600192472.jpg[/IMG] [/ center]

In French, foie gras also means fatty liver, or fattened goose liver. This is one of the specialties of this beautiful country. At first heard people mistakenly believe it is very fat and energy. However, this kind of goose liver contains more unsaturated fatty acids and is recommended because it can lower cholesterol ratio xấu.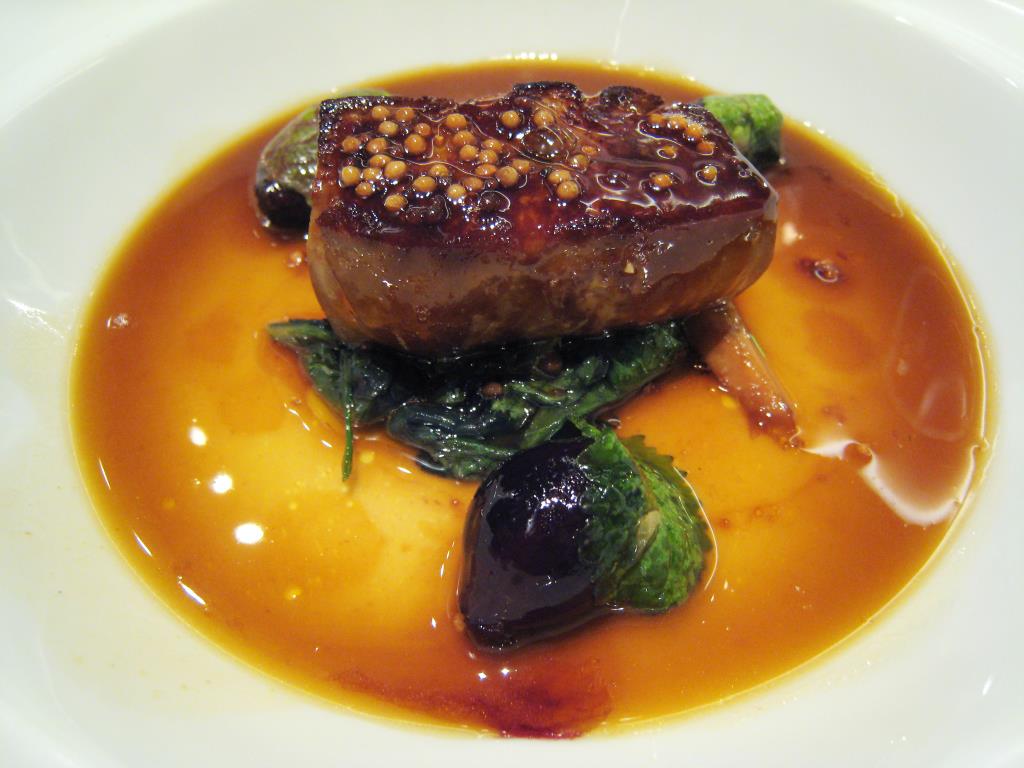 [/ Center]

migratory season, the geese, mallards likely to accumulate body fat, especially fat around the liver enough energy to overcome a long way on the warm . Today, France is the food consumed and produced the world;s largest fatty liver. This dish is famous worldwide and strong popularity in European and American countries. Demand across France fatty liver is nearly 20,000 tons / year.


[IMG] http://media2.ola88.com/images/122015/55/32015121600563221.jpg [/ IMG] [/ center]

the geese are raised by eating too much stuffing of dried corn seeds to get to the liver. It is raising geese in farms under a strict regime, especially for eating fattening period of two weeks in the third month, by which the liver produces fat. The most famous foie gras is produced in the Périgord - South West France.

[IMG] http://media.ola88.com/images/122015/Giai-Tri-Viet/12015121600230263.jpg [ / IMG]

in France, Christmas and new year is a time where people consume most fatty liver. Fatty liver can be eaten with toast, and can go with the form of the sweet figs, or left Pomme (apple), and usually go with the sweet white wine (vin blanc liquoreux) as Sauternes wine.


[IMG] http://media.ola88.com/images/122015/Giai-Tri-Viet/22015121600240894.jpg [/ IMG] [/ center]


excellent fatty liver fatty cheese characterized by layer in the foie gras. It has been processed into a lot of foie gras delicious and unusual dishes.

commonly known Goose liver pate with renowned cuisine. Goose liver pate bring light brown and somewhat greasy than other kinds of pate with a layer of yellow fat nursery iridescent rim. Pate sweet, cool and elegant, not salty, not pungent nose. Still warm and passionate taste characteristics of animal liver but the liver pate day as the type of pig, rabbit pate, pate with green pepper ...

This dish is simply delicious served with cakes special wheat intestine, are baked through to laminated se re, slightly crispy on the outside but has a hard, gut still loose parts. You can also use a lightly toasted sandwiches sides.

The important thing is not your style pate foie gras pressed hard on bread spreads as other kinds of pate which should cut into small slices and put up bread and enjoy slowly, by the taste of foie gras is that to enjoy the natural integrity.

other famous delicacies are freshly sautéed goose liver. This is an absolutely exquisite cuisine thanks to natural flavors that make them unique. So that;s processing skilled chefs are demanding.
Recipes Hot foie gras is considered a feat ranks among the best in the foods. When sautéed, soup to accurately fire by overheating, the liver will burn fat and lose no longer leads to fatness, lack of fire, the liver is not ripe, smell very hard to eat. Liver pieces should be returned so that the two sides are just tan, slightly crispy, but still soft inside, served with balsamic sauce (sauce made with balsamic vinegar, concentrated even a tenth, then continue to cook with basil, water mint). Foie gras dish is often used with strawberry sauce.

Enjoy foie gras must slowly to feel the taste and aroma of liver fat melting on the tongue like a gentle, strangely seductive. A mild fatty subtle, not bitter, not pungent, drifting down the neck without evenm feeling dated. Along with faintly scented marinade, lightly sour point and the the harbor from basil, water mint, pieces of foie gras suddenly became passionate, dispel fishy aftertaste is characterized by lingering animal liver. [Br ]
About chefs today are variations of the foie gras sauce and unique soup. This is also the part of the liver from artisanal chips, pureed and combined with the cream and other ingredients. Similar to other European soups, soup and foie gras with slices of bread often put together a new show every appetite.


[IMG] http://media2.ola88.com/images /122015/55/32015121600264915.jpg[/IMG] [/ center]

French cuisine delicate coordination between food and wine: drink helped complete sublimation eat, eat to help promote the potential drinking heavy. The French have a saying: Foie gras come with Sauterne (wine served with foie gras to Sauterne). Sauterne is a white wine made from overripe grapes to the branches, high crystalline sugar when made, Lu sweet wine, with scents of honey constant waves. Foie gras to enjoy sipping a Sauterne wine connoisseurs called moist new